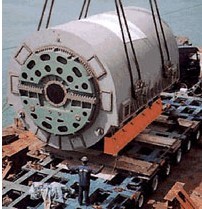 With domestic and international large project, special goods as the main service object, using modern logistics enterprise logistics network and special resources conformity ability in the global scope for multimodal transport business, provide special service and logistics core logistics solutions.
For various size of the goods, we can all professional processing program complex shipments and large quantities of import and export, liquid or solid, etc for chemical logistics, we can guarantee its safety!
Focus on the equipment manufacturing industry, metallurgy, petroleum chemical industry, international EPC engineering, power and water conservancy project, oil gas engineering, energy, engineering construction and so on several big core areas and as a leading service provider, state margin in the domestic and international and large logistics engineering and special goods supply chain management advantages all show.
Provide project logistics advisory services and project logistics management service, the former including feasibility study, the logistics cost budget, logistics risk assessment, supply chain optimization scheme design; The latter include project bidding design and organization, the logistics comprehensive logistics project design, process planning, whole process management.
Have three operation platform: rent a boat center: provides significant piece goods, big groceries, major bulks of domestic and foreign trade by sea, provide heavy crane ship, bulk cargo ship chartering service special goods transport center: as a big, complete sets of equipment and special goods offer the whole chain transport, LiuTie transport, railway transport, the rail transport, railway transportation services combined transport center: provides domestic railway transportation, international railway transport etc transportation service.