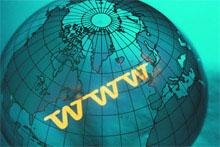 The opening of Crossland Corp. electronic commerce marks has established a new development new mileage, for enterprise in all provide timely market and technical service will be advanced information network technology and modern logistics technology, combination with the comprehensive logistics provide information service. Our electronic commerce system can make us better for present and future provide a full range of freight transportation and logistics services. It will appear to the largest extent to meet customer demand, "make you satisfied in Crossland Corp."
Crossland Corp. electronic business affairs is according to the requirement of management operation and the development of the information technology platform. Its information technology will support the system of exchange rate inquiry, inquiry, operation, and storage system, and the shipping/distribution information, tracing cargo schedule, documents operation, customs regulations, customs clearance, financial report, project inquiry, etc.
As one of the key enterprises freight market, Crossland Corp. will continue through technical innovation and optimize resources to our customers with the best, and high quality service. Our goal is: do the best Chinese logistics information release trading platform.